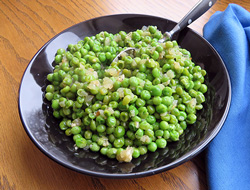 Directions
Heat the oil in the skillet over medium heat. Add the onions and garlic; stir and cook for 5 minutes.
Add the frozen peas to the skillet; stir in the stock. Season with salt and pepper to taste.
Cover and cook for approximately 10 minutes or just until peas are tender.
Prep Time: 10 minutes
Cook Time: 20 minutes
Container: Medium skillet
Servings: 6


Ingredients
-
2 tablespoons olive oil or canola oil
-
1/2 medium onion, finely chopped
-
2 teaspoons minced garlic
-
16 ounces frozen peas (or fresh peas, cooked)
-
1 tablespoon chicken stock
-
salt and pepper to taste