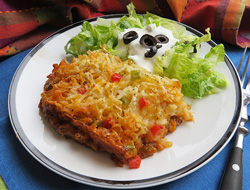 Directions
Brown the ground beef, onion, half the green pepper and half the red pepper over medium-high heat; drain grease.
Reduce the heat; add the tomato soup, corn and cream cheese. Cook and stir until cream cheese is all melted and blended in.
Add half the cheese and the taco seasoning; stir until well mixed.
Preheat the oven to 350° F. Grease a 9 x 13 baking dish and add the ground beef mixture. Spread out evenly.
In a large bowl combine the thawed hashbrowns, remaining peppers, other half of the cheese, salt and pepper. Stir to mix well.
Spread the hashbrowns evenly on top of the ground beef mixture; press down slightly.
Place in the preheated oven and bake for 60 minutes or until the top is golden brown and crispy.
Serve with your favorite taco fixings.
Prep Time: 1 hour
Cook Time: 1 hour
Container: 9 x 13 baking dish
Servings: 12


Ingredients
-
2 pounds ground beef
-
1/2 cup chopped onion
-
1 cup diced green peppers, divided
-
1 cup diced red peppers, divided
-
2 cans tomato soup
-
1 cup corn
-
6 ounces cream cheese
-
4 cups shredded Mexican-style cheese, divided
-
2 packages taco seasoning
-
1 package frozen shredded hashbrowns, thawed (30 oz. pkg.)
-
1 1/2 teaspoons salt
-
1/2 teaspoon pepper
-
shredded lettuce, sour cream, black olives, salsa and any other favorite taco fixings