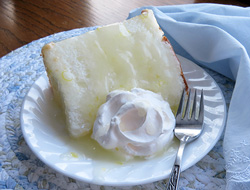 Directions
Preheat the oven according to the cake mix directions.
Prepare and bake the angel food cake as directed on the package; cool completely.
SAUCE:
Combine the sugar and cornstarch in a saucepan; stir to combine. Add the water and salt.
Cook until mixture has thickened and is clear; bring to a boil. Remove from the heat and add the lemon juice, zest and butter. Stir until butter has melted.
Allow sauce to cool. It will thicken as it cools.
Serve sauce over a slice of angel food cake and add a dollop of whipped topping.
Prep Time: 30 minutes
Cook Time: 35 minutes
Container: Angel food cake pan
Servings: 12


Ingredients
-
1 angel food cake mix
-
LEMON SAUCE:
-
1/2 cup sugar
-
2 tablespoons cornstarch
-
1 cup water
-
1/8 teaspoon salt
-
1/4 cup lemon juice (fresh)
-
1 teaspoon lemon zest
-
2 tablespoons butter
-
whipped topping