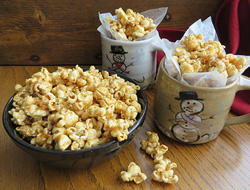 Directions
Line a large baking sheet with parchment paper or a silicone mat.
Pop the popcorn and add it to a large bowl. Do not salt or butter the popcorn; set aside.
Add the butter, brown sugar, corn syrup and 1 tsp of salt to a saucepan; melt together over medium heat. Bring mixture to a boil, stirring occasionally.
Boil for 4 minutes without stirring. Preheat the oven to 300° F. while caramel is boiling.
When done boiling pour over the popcorn and stir until it is evenly coated.
Pour the caramel corn onto the prepared cookie sheet. Spread out into an even layer and sprinkle with the remaining salt.
Place in the preheated oven and bake for 30 minutes. Stir every 10 minutes.
When done, turn out onto a wax paper lined counter and separate into pieces. Allow to cool completely before storing.
Prep Time: 30
Cook Time: 30
Servings: 8


Ingredients
-
1/2 cup unpopped popcorn
-
1 cup salted butter
-
1 cup brown sugar
-
1/3 cup light corn syrup
-
2 teaspoons kosher salt, divided