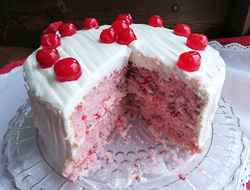 Directions
Preheat the oven according to directions on the cake mix. Prepare cake pans as directed.
Drain and reserve the juice from the cherries. Chop cherries into small pieces. Set the juice and chopped cherries aside.
Prepare the cake according to package directions but when measuring the water, first measure the cherry juice that was reserved and add enough water to equal the amount of water called for on the package. Mix batter as directed.
Fold the chopped cherries and the pecans into the cake batter; then pour the batter into the prepared cake pans, distributing evenly between the two.
Place in the preheated oven and bake for the recommended time or when a toothpick poked in the middle comes out clean. Remove from the oven and allow to cool for 10 minutes in the pan; then remove the cakes and allow them to cool completely on a wire rack.
FROSTING:
Whip the heavy whipping cream until stiff peaks form; set aside.
Beat the cream cheese, sugar and vanilla together until smooth; fold in the whipped cream just until well mixed.
Place the first layer on the cake plate and spread frosting over the top so that it is about 1/4 inch thick and keep about 1/4 inch form the edge.
Place the second layer on top of the first layer. Frost the top and sides of the cake with the remaining frosting.
Decorate with additional whole cherries or as desired.
Prep Time: 30 minutes
Container: 8 or 9-inch round cake pans
Servings: 12


Ingredients
-
1 box white cake mix
-
1 jar Maraschino cherries (4 oz.)
-
3/4 cup chopped pecans
-
FROSTING:
-
1 cup heavy whipping cream
-
8 ounces cream cheese, softened
-
2/3 cup sugar
-
3/4 teaspoon vanilla