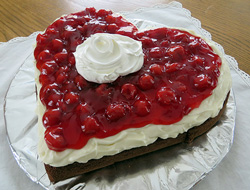 Directions
Preheat the oven according to the directions on the cake mix package. Grease the bottom and sides of both cake pans.
Prepare the devil's food cake according to the package directions and bake as directed.
While the cake is baking, beat the cream cheese in a medium mixing bowl until smooth. Add the sugar and mix until well blended. Cover and place in the refrigerator.
When the cake is done baking, allow to cool for 10 minutes in the pans; then turn out onto a wire rack and allow to cool completely.
Once the cakes are cooled, create the heart-shaped cake by first placing the square cake on the lower part of a large platter, allowing enough room to create the top of the heart with the round cake. The square cake should be turned 90° so that it forms a diamond shape on the platter.
Then cut the round cake in half and place one half, rounded edge up, along the top left edge of the diamond. Then place the other half, rounded edge up, along the top right edge of the diamond. The flat sides of the round halves should line up with the top flat edges of the diamond and this should form your heart.
Once the heart is formed, cover the entire top with the cream cheese mixture. This should give you a nice thick layer on the cake. Spread out evenly.
Pour the cherry pie filling out on top of the cream cheese layer and spread out evenly. The add a dollop of whipped topping in the center.
Refrigerate until ready to serve. When serving, add a dollop of whipped topping to the top of each piece. Refrigerate the leftover cake.
Prep Time: 45 minutes
Cook Time: 25 minutes
Container: 8-inch square cake pan and 8-inch round cake pan
Servings: 15


Ingredients
-
1 package devil's food cake mix
-
2 packages cream cheese (8 oz. each), softened
-
1/2 cup sugar
-
1 can cherry pie filling
-
8 ounces whipped topping