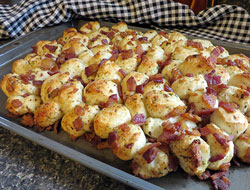 Directions
Thaw dough as directed on package.
Dice bacon and cook for 5 or 10 minutes in a skillet. Do not cook until crispy, just cook partially; drain on paper towels and set aside.
Roll or press dough out into a rectangle that is about 1/2 inch thick. Coat top with 1 tbsp. of olive oil.
Cut dough into 1-inch wide strips and then cut crosswise at 1-inch widths to form 1-inch pieces; place in a large bowl.
Add the bacon pieces, dressing mix, and the other tablespoon of olive oil. Toss everything together until evenly distributed.
Place the pieces on a baking sheet so that they are just touching or not quite touching. Make sure all the bacon is distributed throughout.
Cover lightly with plastic wrap and set in a warm place for about 30 minutes or until pieces have doubled in size.
Have oven preheated to 350° F. Place in the oven uncovered and bake for 15 minutes. Remove from the oven and lightly cover with foil and return to the oven; bake for 5 to 10 additional minutes or until golden brown.
Prep Time: 30 minutes
Cook Time: 25 minutes
Container: Baking sheet
Servings: 12


Ingredients
-
1 pound frozen bread dough
-
12 bacon strips
-
2 tablespoons olive oil, divided
-
1 packet ranch salad dressing mix (1 oz.)