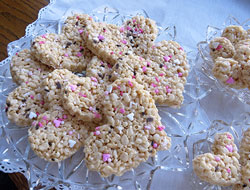 Directions
Butter the bottom and sides of a 9 x 13 baking pan.
Melt butter and marshmallows together either in the microwave or on the stove top until smooth. Stir often.
When the marshmallows are melted and smooth, remove from the heat and add the Rice Krispies. Mix thoroughly.
Pour into the buttered baking pan.
With buttered hands, press the mixture evenly into the pan; press down firmly.
Sprinkle the top with the Valentine's Day sprinkles. Gently press into the Rice Krispie bars.
Using a heart-shaped cookie cutter, press firmly into the Rice Krispie bars to cut out the hearts. Remove from the cutter and place on a plate or some wax paper. You can use different size cookie cutters if desired. Place the cookie cutters in different directions to get as many hearts cut out as possible.
Store in an air-tight container.
Prep Time: 35 minutes
Cook Time: 5 minutes
Container: 9 x 13 baking pan


Ingredients
-
1/4 cup butter
-
10 ounces marshmallows
-
6 cups Rice Krispie cereal
-
Valentine's Day sprinkles