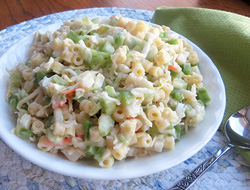 Directions
Cook the ditalini macaroni as directed on the package. Drain and rinse with cold water; allow to drain completely.
Chop the celery, cucumber, green pepper and water chestnuts and combine in a large mixing bowl. Add the minced dried onion.
Add the package of coleslaw mix and the drained ditalini. Toss all the ingredients together and set aside.
Combine all the dressing ingredients together in a small bowl and whisk until smooth. Pour dressing over the other ingredients and toss until evenly coated.
Pour salad into a serving bowl, cover and chill in the refrigerator for at least an hour before serving.
Prep Time: 45 minutes
Container: Large mixing bowl
Servings: 16


Ingredients
-
8 ounces ditalini macaroni
-
2 celery ribs, finely chopped
-
1 cucumber (medium), finely chopped
-
1 green pepper (medium), finely chopped
-
1 can water chestnuts (8 oz. can) - drained, finely chopped
-
3 tablespoons dried minced onion
-
1 package coleslaw mix (14 oz. pkg.)
-
DRESSING:
-
1 1/2 cups salad dressing (such as Miracle Whip)
-
1/2 cup sugar
-
1/4 cup cider vinegar
-
1/2 teaspoon salt
-
1/4 teaspoon pepper