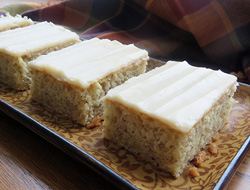 Directions
Heat oven to 375°. Grease and flour the 10 x 15 baking sheet.
In a large mixing bowl beat the sugar, buttermilk, butter, and eggs on low for 1 minute.
Beat in mashed bananas and vanilla for 30 seconds on low.
Add the flour, salt and soda; beat on medium for 1 minute.
Spread in prepared pan. Bake until light brown, 20-25 minutes; cool.
FROSTING:
Heat butter over medium heat until lightly browned. Remove from heat.
Pour powdered sugar into a mixing bowl and add the browned butter; beat until smooth and well blended.
Beat in vanilla and milk. Mix until smooth and spreadable.
Frost bars after they have cooled completely.
Prep Time: 25 minutes
Cook Time: 20 minutes
Container: 10 x 15 x 1 baking sheet


Ingredients
-
1 1/2 cups sugar
-
1 cup buttermilk
-
1/2 cup butter, softened
-
2 eggs
-
1 1/2 cups bananas, mashed
-
2 teaspoons vanilla
-
2 cups flour
-
1 teaspoon salt
-
1 teaspoon soda
-
FROSTING:
-
1/2 cup butter
-
2 cups powdered sugar
-
1 teaspoon vanilla
-
3 tablespoons milk