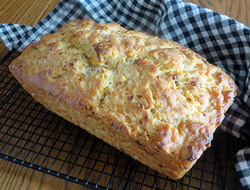 Directions
In a small skillet, heat the oil and then add the chopped onion; cook for approximately 10 minutes or until onions are browned. Add the garlic and pepper; cook for an additional minute. Remove from heat and set aside.
Preheat the oven to 375° F. Grease the bottom and sides of a 9 x 5 loaf pan.
Lightly spoon flour into measuring cups and then level the top. In a large bowl, combine the flour, sugar, baking powder, and salt. Whisk lightly to mix.
Make a well in the middle of the dry ingredients. Add the onion, cheese, and beer in the well. Stir in dry ingredients, stirring just enough to moisten.
Pour batter into the prepared loaf pan. Melt 1 tablespoon of butter and drizzle over the top of the batter.
Bake for 35 minutes, remove from the oven and drizzle another tablespoon of melted butter over the top of the loaf and place back into the oven. Bake for an additional 20 to 25 minutes. The bread should be a dark golden brown.
Remove from the oven and allow to cool for 5 minutes in the pan; then turn out onto a wire cooling rack and allow to cool completely before slicing.
Prep Time: 50 minutes
Cook Time: 55 minutes
Container: 9 x 5 loaf pan
Servings: 16


Ingredients
-
1 tablespoon canola oil or olive oil
-
1/2 cup finely chopped yellow onion
-
1 teaspoon minced garlic
-
1/4 teaspoon pepper
-
3 cups flour
-
3 tablespoons sugar
-
2 teaspoons baking powder
-
1 teaspoon salt
-
1 cup shredded Colby Jack cheese
-
1 can beer (not light), 12 oz. can
-
2 tablespoons butter, melted - divided