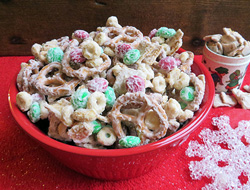 Directions
Combine all the ingredients except the almond bark and canola oil in a large bowl.
In a microwave-safe bowl, combine the canola oil and almond bark. Heat for 1 minute in the microwave, take out and stir. Return to the microwave and heat at 30 second intervals, stirring after each, until the almond bark is all melted.
Pour over other ingredients in the large bowl; stir until everything is evenly coated.
Line the counter with waxed paper and then pour the mixture unto it. Spread out as much as possible into a single layer.
Allow the mix to set up completely and then break into pieces. Store in a sealable bag or air-tight container.
Prep Time: 30 minutes


Ingredients
-
3 cups Honey Nut Cheerios
-
3 cups Golden Grahams
-
1 1/3 cups Christmas M & M's
-
1 cup dry roasted peanuts
-
5 ounces mini pretzels
-
18 ounces almond bark
-
1 1/2 tablespoons canola oil