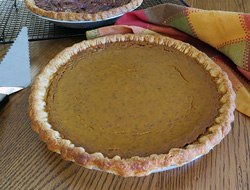 Directions
Make up your pie crust and place it in the pie plate; flute edges and place in the refrigerator while preparing the pumpkin mix.
Preheat the oven to 425° F.
Combine the sugar, cinnamon, ginger, cloves, and salt in a small bowl. Stir to mix evenly.
In a large mixing bowl, beat the eggs until well beaten but do not over mix.
Add the pumpkin and sugar mixture to the eggs; stir until well mixed. Gradually add in the milk. Stir until evenly mixed.
Pour into the prepared pie crust. Bake at 425° F. for 15 minutes and then turn heat down to 350° F.; bake for an additional 45 to 50 minutes or until the center is firm. A knife inserted in the center should come out clean.
Cool completely before slicing. Serve with a scoop of whipped topping.
Prep Time: 30 minutes
Cook Time: 1 hour
Container: 9-inch pie plate
Servings: 8
Serving Size: 1 slice


Ingredients
-
1 9-inch pie crust (homemade or store bought refrigerator crust)
-
3/4 cup sugar
-
1 1/4 teaspoons cinnamon
-
1/4 teaspoon ground ginger
-
1/4 teaspoon ground cloves
-
1 teaspoon salt
-
2 eggs
-
1 can pure pumpkin (15 oz. can)
-
1 can evaporated milk
-
Whipped topping