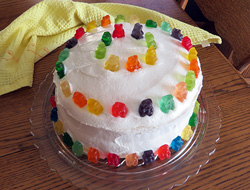 Directions
Prepare the cake according to the directions on the package. Allow to cool completely before frosting.
Combine all the frosting ingredients in a large mixing bowl and mix well; beat for 3 minutes.
Place the first cake layer on a cake plate. If the cake is domed on top, carefully slice off the domed section to create a flat top.
Cover the top of the layer with a thick layer of frosting; smooth out evenly.
Place the second layer on top of the first layer. Press down lightly and make sure edges line up with the first layer.
Frost the sides and top of the cake, covering with an even coat of frosting. Smooth the sides and top.
Decorate top and sides with gummy bears. Add candles as needed.
Prep Time: 45 minutes
Cook Time: 25 minutes
Container: Two 8-inch round cake pans
Servings: 12


Ingredients
-
1 package white cake mix
-
5 3/4 cups powdered sugar
-
1/2 cup milk
-
3/4 cup Crisco
-
1/2 teaspoon salt
-
1 1/2 teaspoons almond extract