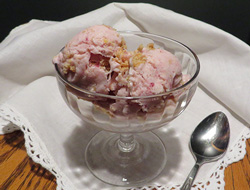 Directions
Blend together the cream cheese, sweetened condensed milk, whipping cream, and lemon zest; pour into freezer-safe container and freeze for about 4 hours or just about frozen.
Remove from the freezer and beat until creamy; then beat in the strawberries until smooth.
Stir in the chopped graham crackers. Place back in the freezer for 8 hours or until completely frozen.
Remove from the freezer approximately 15 minutes before serving so that it is easier to scoop when serving.
Prep Time: 30 minutes
Container: Freezer-safe container
Servings: 8


Ingredients
-
8 ounces cream cheese
-
1 can sweetened condensed milk - 14 oz. can
-
1/2 cup whipping cream
-
2 teaspoons lemon zest
-
1 1/2 cups fresh strawberries
-
3 graham crackers - coarsely chopped