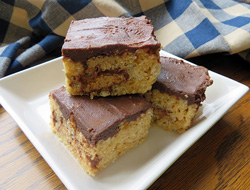 Directions
Butter a 9 x 13 pan; set aside. Unwrap all of the peanut butter cups; set a side.
In a saucepan, melt 4 tbsp. of butter over low heat. Add the marshmallows to the butter and continue to cook over low heat until they are completely melted; stir continuously.
Stir the peanut butter into melted marshmallow mixture.
Add the cereal, stir until evenly coated, and press half of the cereal mixture evenly into the bottom of the butter 9 x 13 pan.
Place 24 peanut butter cups over the top of this layer of cereal. Add the remaining cereal mixture over the top of the peanut butter cups and press down; spread out evenly.
Allow the bars to cool.
Combine the chocolate chips and 3 tbsp. of butter in a microwave safe bowl. Microwave for 1 minute and stir. If not completely melted, continue to microwave at 15 second intervals until the mixture is creamy and smooth.
Spread chocolate mixture evenly over the top of the cooled bars.
Once the chocolate sets up, cut into 24 bars.
Prep Time: 45 minutes
Container: 9 x 13 pan
Servings: 24


Ingredients
-
24 Reese's Peanut Butter Cups
-
4 tablespoons butter
-
7 cups miniature marshmallows
-
1/2 cup peanut butter
-
7 cups Rice Krispies
-
TOPPING:
-
1 1/2 cups chocolate chips
-
3 tablespoons butter