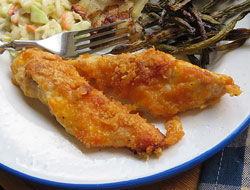 Directions
Grease a 9 x 13 pan. Preheat the oven to 400° F.
If your chicken breasts are bone-in, cut meat away from the bones. Cut each chicken breast into three pieces.
Crush the Ritz crackers and place on a large plate. Add the salt and pepper; toss to mix in evenly.
Pour the milk into a bowl and pour the shredded cheese on a large plate.
Prepare the chicken by first dipping into the milk, then dredging in the shredded cheese. Then dredge in the cracker crumbs.
Place each coated piece into the greased 9 x 13 baking pan.
Cover the baking pan with foil and bake in the preheated oven for 30 minutes. Remove the foil and bake for an additional 15 minutes or until the coating is browned and crispy.
Serve with your favorite dipping sauce.
Prep Time: 45 minutes
Cook Time: 45 minutes
Container: 9 x 13 baking dish
Servings: 8


Ingredients
-
4 chicken breasts - large
-
2 sleeves of Ritz crackers
-
1/4 teaspoon salt
-
1/8 teaspoon pepper
-
1/2 cup milk
-
3 cups shredded Cheddar cheese