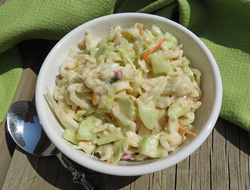 Directions
Peel and slice the cucumbers. Mix with the coleslaw mix.
Combine all the dressing ingredients and stir until well blended.
Pour part of the dressing over the cabbage and cucumbers and toss to coat. Continue to add dressing until the coleslaw is coated to your satisfaction. You may not use all of the dressing, depending on your preference.
Refrigerate to chill before serving. Toss lightly before serving.
Prep Time: 20 minutes
Servings: 8


Ingredients
-
2 cucumbers - medium
-
1 package coleslaw mix (14 or 16 oz.)
-
DRESSING:
-
1 cup mayonnaise
-
2 tablespoons sugar
-
1 1/2 tablespoons vinegar
-
1 teaspoon celery seed
-
1 teaspoon mustard, ground
-
1/2 teaspoon seasoning salt