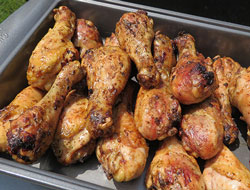 Directions
Preheat the grill. Coat the surface of the chicken legs with canola oil.
Place the chicken legs on the preheated grill. Baste the legs with melted butter and then season to taste with salt and pepper.
Grill the legs until they begin to brown on the first side. Turn and baste with butter again.
Continue to grill and turn the legs as each side browns. Baste with melted butter after each turn.
Once the legs are nicely browned, check for doneness. Poke with a fork and if juices run clear (not pink) they should be done. You can also check with a thermometer. It should read 175° F. when done and then be allowed to set for 10 to 15 minutes. The temperature should rise to 180° F. after setting.
Prep Time: 5 minutes
Cook Time: 45 minutes


Ingredients
-
Chicken legs
-
Canola oil
-
Butter - melted
-
Salt and pepper to taste