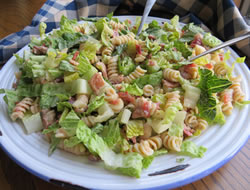 Directions
Preheat oven to 400 degrees F.
Lay bacon on lined baking sheet. Bake for 12-15 minutes until crisp. Drain on paper towels.
Cook the pasta according to package directions; drain and toss with the milk in a large bowl; set aside.
In a large skillet, add tomatoes, thyme and garlic with bacon drippings; toss until warmed through; season with salt and pepper. Crumble the bacon into bite-size pieces. Toss the bacon and tomato mixture with the pasta.
In a small bowl, mix the mayonnaise, sour cream. Pour over pasta and stir until combined. Season with salt and pepper. Add the lettuce; toss again to coat. Serve.
Servings: 6


Ingredients
-
1 pound bacon - reserve drippings
-
12 ounces rotini pasta
-
1/2 cup milk
-
3 tomatoes - cut into chunks
-
1/4 teaspoon ground thyme
-
1 clove garlic - minced
-
1/2 cup mayonnaise
-
1/4 cup sour cream
-
3 tablespoons chives - finely diced
-
1/2 teaspoon salt
-
1/4 teaspoon pepper
-
5 cups romaine lettuce - chopped