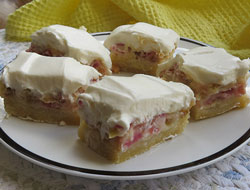 Directions
CRUST:
Preheat the oven to 350° F. Grease the bottom and sides of a 9 x 13 baking pan.
Combine the flour and sugar in a bowl and then cut in the butter until the mixture is coarse and crumbly; press into the bottom of the prepared baking pan and bake for 10 minutes.
FILLING:
While the crust is baking, combine the sugar and flour in a large mixing bowl. Add the cream and eggs; whisk all together until well mixed.
Add the rhubarb and stir to mix in evenly. Pour the filling over the crust once it comes out of the oven.
Return to the oven and bake for 40 to 45 minutes or until the filling is set. Allow bars to cool completely before frosting.
FROSTING:
Whip the heavy whipping cream until stiff peaks form; set aside.
Beat the cream cheese, sugar and vanilla together until smooth; fold in the whipped cream just until well mixed.
Spread over the top of the cooled bars. Cover, chill and store in the refrigerator.
Prep Time: 1.25
Cook Time: 55 minutes
Container: 9 x 13 baking pan
Servings: 24


Ingredients
-
CRUST:
-
2 cups flour
-
1/4 cup sugar
-
1 cup butter - cold
-
FILLING:
-
2 cups sugar
-
7 tablespoons flour
-
1 cup heavy whipping cream
-
3 eggs - beaten
-
5 cups diced fresh rhubarb
-
FROSTING:
-
1 cup heavy whipping cream
-
8 ounces cream cheese - softened
-
2/3 cup sugar
-
3/4 teaspoon vanilla