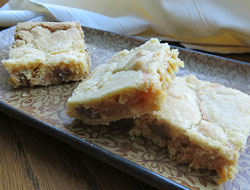 Directions
Preheat oven to 350° F. Grease the bottom and sides of a 9 x 13 baking pan.
Combine the cake mix, melted butter, and 1/2 cup of evaporated milk; mix together well.
Spread 1/2 of the batter on the bottom of the greased baking pan. Bake for 6 to 8 minutes.
Melt the caramels with the 1/3 cup of evaporated milk.
When the first layer of bars are done, remove from the oven and pour the melted caramels evenly over the top.
Sprinkle with the chocolate chips and nuts (optional). Crumble the remaining batter over the top.
Bake for an additional 10 minutes.
Prep Time: 30 minutes
Cook Time: 18 minutes
Container: 9 x 13 baking dish
Servings: 24


Ingredients
-
1 box yellow cake mix
-
3/4 cup butter, melted
-
1/2 cup evaporated milk
-
14 ounces caramels
-
1/3 cup evaporated milk
-
2 cups milk chocolate chips
-
1/4 cup chopped pecans (optional)