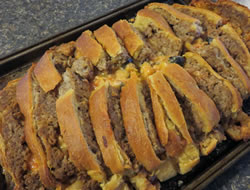 Directions
Combine the ground beef, bread crumbs, eggs, onion, salt, and oregano in a large bowl. Using your hands mix the ingredients together and then add in half of the tomato juice. Set aside when mixed.
Cut two pieces of wax paper 15 inches long. Lay one out on your work surface. Remove crescent rolls from the tubes without separating individually. Lay 4 crescents from one tube out on the wax paper and then the next 4 directly below them to form a rectangular shape. Then lay the crescents from the second tube directly on top of the first ones, forming a second layer.
Place the second piece of wax paper on top of the laid out crescent roll. With a rolling pin, roll the dough out into a rectangular shape until the dough is about half its original thickness.
Once the crescents are rolled out, spread the meat mixture over the top evenly. It will be fairly thick. Then sprinkle the cheese, peppers, and olives over the top of the meat. Top with the remaining tomato sauce.
Roll up the crescent and meat in jelly roll fashion, using the wax paper to help roll it up. Once it is rolled up, pinch the edge and ends together to seal the openings. Leave the seam towards the top. This makes a very large loaf.
Lightly grease the 9 1/4 x 5 1/2 x 2 3/4 loaf pan. Then take the loaf pan and place it over the crescent log so the seam will be towards the bottom of the pan. Carefully flip the loaf pan over and tuck in any edges. The log will be up above the top of the pan but that will be ok.
Place in an oven preheated to 375° F. and bake for 30 minutes. After 30 minutes, pour off any grease that has accumulated. If the crescent dough is fairly browned, loosely cover the top of the loaf with aluminum foil and place back in the oven for 30 minutes.
Remove from the oven and again pour off any accumulated grease. Place back in the oven for another 20 minutes. Place foil over the top again unless you feel you want the crescent to brown a little more.
Remove from the oven and carefully turn out onto a cookie sheet. Flip upright and allow to set for 10 minutes before slicing.
Prep Time: 50 minutes
Cook Time: 1 hour 20 minutes
Container: 9 1/4 x 5 1/2 x 2 3/4 loaf pan
Servings: 12
Serving Size: 1 slice


Ingredients
-
2 pounds ground beef
-
1 cup bread crumbs
-
2 eggs - beaten
-
2 tablespoons minced onion flakes
-
3/4 teaspoon salt
-
1/4 teaspoon oregano
-
1 can tomato sauce (8 oz. can) - divided
-
2 tubes crescent rolls
-
1 cup shredded mozzarella cheese
-
1 cup shredded cheddar cheese
-
1 bell pepper - green, red or yellow
-
1 cup sliced black olives