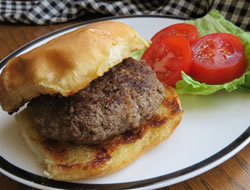 Directions
Divide hamburger into 4 even sections. Form round patties from each section. Press your thumb in the middle of each hamburger to make an indent.
Generously season each burger with salt and pepper.
Melt the butter in a grill pan or skillet on the stove. Place the burgers in the pan and cook on each side for 4 to 5 minutes or to desired doneness.
Remove burgers and cover loosely with foil; allow to rest for 5 minutes.
While burgers are resting, butter the buns and toast each half in a pan on the stove until lightly browned.
Serve the burgers with your favorite toppings.
Prep Time: 10 minutes
Cook Time: 15 minutes
Servings: 4


Ingredients
-
1 pound ground beef
-
salt and pepper - to taste
-
1 tablespoon butter or margarine
-
4 hamburger buns