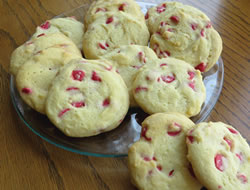 Directions
Preheat the oven to 350° F.
Cream together the butter, powdered sugar, and vanilla until fluffy.
Add the flour and baking soda; beat until well mixed.
Stir in the cherry chips until evenly distributed.
Place on cookie sheets in about 1-inch mounds, spacing approximately 2 inches apart. Flatten each cookie slightly with the bottom of a glass.
Bake in the preheated oven for 11 to 12 minutes or until the cookies are slightly browned around the edges.
Remove from the oven and allow them to set for a couple of minutes before removing them from the cookie sheet; then remove and place on a cooling rack.
Note: This recipe does not contain any eggs.
Prep Time: 20 minutes
Cook Time: 12 minutes
Container: Cookie sheets
Servings: 36


Ingredients
-
1 cup butter or margarine - softened
-
1 cup powdered sugar
-
1 teaspoon vanilla
-
1 3/4 cups flour
-
1/2 teaspoon baking soda
-
1 cup Cherry Chips