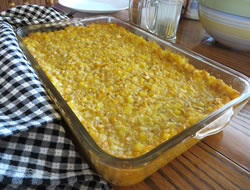 Directions
Butter the baking dish on the bottom and sides. Preheat the oven to 350° F.
In a large bowl, combine all the ingredients; stir to mix evenly.
Pour into the prepared baking dish and place in the preheated oven. Bake for 45 minutes or until bubbling and golden brown around the edges.
Remove from the oven and serve while hot.
Prep Time: 15 minutes
Cook Time: 45 minutes
Container: Baking dish


Ingredients
-
2 cans creamed corn - 15 oz. cans
-
2 cups frozen corn
-
1/2 cup milk
-
1 sleeve of saltine crackers, crushed coarsely
-
3 tablespoons margarine - cut into small pieces
-
1 tablespoon sugar
-
1/2 teaspoon salt
-
1/4 teaspoon pepper