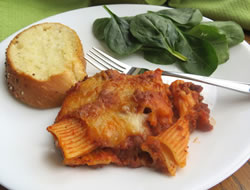 Directions
Grease the baking dish on the bottom and sides; set aside.
Brown the ground beef and onion in a large skillet; drain grease. Sprinkle with salt and pepper.
Add the tomato juice, tomato soup, butter, and sugar. Stir together and bring to a boil. Turn down the heat and allow to simmer for about 10 to 15 minutes or until it thickens slightly.
While sauce is simmering cook the rigatoni until al dente (still having a slight bite to it). Drain but do not rinse.
Add half of the rigatoni to the bottom of the greased baking dish. Pour half the sauce over the rigatoni. Then sprinkle 1 cup of Cheddar cheese and 1 cup of Mozzarella cheese over the sauce. Repeat these layers.
Sprinkle the Parmesan over the top and place in an oven preheated to 350° F. Bake for 45 minutes or until bubbling.
Remove from the oven and allow to set for 5 or 10 minutes before serving.
Prep Time: 30 minutes
Container: 9 x 13 baking dish
Servings: 12


Ingredients
-
2 pounds ground beef
-
1/4 cup minced onion
-
1 teaspoon salt
-
1/2 teaspoon pepper
-
1 can tomato juice - 46 oz.
-
1 can tomato soup
-
1 tablespoon butter or margarine
-
3 tablespoons sugar
-
8 ounces rigatoni
-
2 cups shredded cheddar cheese
-
2 cups shredded mozzarella cheese
-
1/4 cup shredded parmesan cheese (more if desired)