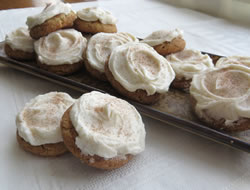 Directions
Preheat the oven to 375° F.
Beat the butter and shortening together on medium-high speed until creamy and smooth.
Add the sugar, coffee granules, baking soda, cream of tartar, and salt; beat until well combined.
Beat In the egg and vanilla.
Add the flour gradually. Beat in with electric mixer unless dough gets too stiff. Stir in by hand if it gets too stiff for the mixer.
Combine the sugar and cinnamon; stir to mix evenly.
Form dough into 1-inch balls and then roll in the cinnamon and sugar mixture; place on cookie sheet about 2 inches apart.
Bake for 10 to 12 minutes or until the cookies are just starting to brown around edges. Cool on a wire rack.
FROSTING:
Beat butter and Irish cream liqueur together until smooth.
Gradually add the powdered sugar. If the frosting gets too dry as you are adding the powdered sugar, start adding a little of the half & half.
Once all the powdered sugar has been added, gradually add the remaining half & half. Add the half & half until the frosting is the desired spreading consistency.
Spread frosting on the cooled cookies and sprinkle the tops with a light dusting of the remaining cinnamon and sugar mixture.
Prep Time: 1 hour
Cook Time: 45 minutes
Servings: 36


Ingredients
-
1/4 cup butter - softened
-
1/4 cup butter-flavored shortening
-
1 cup sugar
-
1 tablespoon instant coffee granules
-
1/4 teaspoon baking soda
-
1/4 teaspoon cream of tartar
-
1/4 teaspoon salt
-
1 egg - slightly beaten
-
1 teaspoon vanilla
-
1 3/4 cups flour
-
1/4 cup sugar
-
2 teaspoons cinnamon
-
FROSTING:
-
3 tablespoons butter - softened
-
1 1/2 tablespoons Irish cream liqueur
-
3 cups powdered sugar
-
1/4 cup half & half