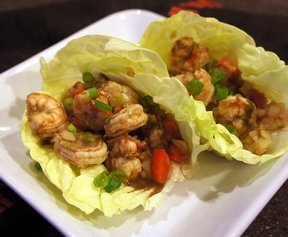 Directions
In a medium bowl, combine lime juice, vegetable oil, soy sauce, ginger and garlic. Add shrimp and let marinate in refrigerator for 30 minutes.

In a medium skillet, heat bell pepper, green onions and water chestnuts over medium high heat, stirring occasionally, cook for 3 minutes.

Add shrimp and marinade and cook 3 more minutes, or until shrimp are pink and cooked through.

Divide lettuce into leaves. Spoon about 1/4 cup mixture down center of 1 lettuce leaf. Fold bottom edge and sides up and over filling. Repeat with remaining lettuce leaves and shrimp filling.
Prep Time: 15 minutes
Cook Time: 6 minutes
Servings: 8


Ingredients
-
3 tablespoons lime juice
-
2 tablespoons vegetable oil
-
2 tablespoons soy sauce
-
3 teaspoons fresh ginger, grated
-
1 clove garlic, minced
-
1 pound shrimp, peeled, deveined
-
1/2 red bell pepper, diced
-
2 green onions, diced
-
1 can water chesnuts, drained, chopped (5 oz can)
-
1 head Bibb or Iceberg lettuce