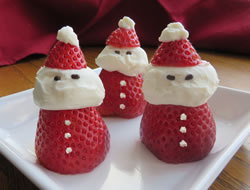 Directions
Clean the strawberries and then trim the stem end off to create a flat bottom so the strawberry will set up straight.
Trim the tip off each strawberry to use as the hat. Set trimmed strawberry aside.
Beat the cream cheese until smooth. Add the cream and beat until blended. Add the sugar and vanilla; mix until smooth.
Place a dollop of the cream cheese mixture on top of the strawberry for the head. Place the cut off tip of the strawberry on top of the dollop as the hat.
Place a small dollop on the tip of the strawberry as a pompom and tiny dollops on the base as buttons.
To finish them, add two brown sprinkles as eyes.
Store them in the refrigerator until ready to serve.
Prep Time: 1 hour
Servings: 12


Ingredients
-
12 strawberries
-
1/3 cup cream cheese
-
1/3 cup heavy whipping cream
-
3 tablespoons sugar
-
1/2 teaspoon vanilla