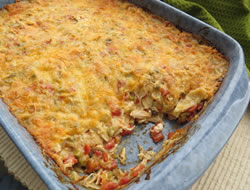 Directions
Preheat the oven to 350° F. Grease the bottom and sides of a 9 x 13 baking dish.
In a medium skillet melt the margarine; when heated add the green peppers, and onion.
Cook the peppers and onions for about 5 minutes or until tender; stir occasionally while cooking.
Stir in broth, cream of mushroom soup, tomatoes and green chilies, and the shredded chicken. Stir together until evenly mixed.
Bring the mixture to a boil and remove from the heat.
Tear tortillas into bite-size pieces. Place one-third of the torn tortillas in the bottom of the greased baking dish. Then add one-third of the chicken mixture and one cup of cheese. Repeat the layers two more times, ending with cheese on the top.
Place in the preheated oven and bake for 45 minutes or until bubbly.
Serve with shredded lettuce and your favorite Mexican fixings.
Prep Time: 1 hour
Cook Time: 45 minutes
Container: 9 x 13 baking dish
Servings: 12


Ingredients
-
1 tablespoon margarine
-
2 green bell pepper - medium
-
1/2 cup finely chopped onion
-
2 cans cream of mushroom soup
-
1 cup chicken broth
-
2 cans Rotel tomatoes & green chilies, undrained
-
4 cups shredded cooked chicken (rotisserie chicken works well)
-
18 tortillas - 6-inch
-
3 cups Mexican cheese - shredded