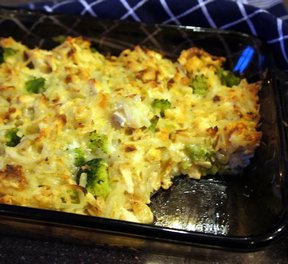 Directions
Preheat oven to 400 and butter a 9x9 inch baking dish.

In a large bowl, mix thawed hashbrowns, diced chicken, soup, 3/4 cup of the cheese, broccoli and melted butter. Spread in baking dish and bake for 45 minutes.

Spread the remaining cheese over the top the last few minutes of bake time.
Prep Time: 15 minutes
Cook Time: 45 minutes
Servings: 8


Ingredients
-
5 cups frozen hashbrowns, thawed
-
2 cups chicken, cooked, diced
-
1 can cream of chicken soup
-
1 cup shredded Cheddar cheese, divided
-
1 cup broccoli florets
-
1/2 cup butter, melted