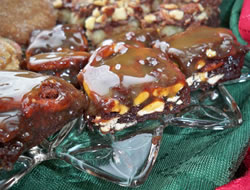 Directions
Preheat the oven to 350 degrees F. Lightly grease the bottom of a 9 x 13 baking pan.
Prepare the brownies according to the directions on the package. Pour 1/3 of the batter into the baking pan and spread out.
Add two layers of pretzels on top of the brownie mix, making sure to cover the whole surface.
Carefully spoon the remaining brownie batter over the pretzels and spread out evenly.
Place in the preheated oven and bake for 30 to 35 minutes.
Remove from the oven and place on a cooling rack to cool. Once cooled, pour the caramel sauce over the top and spread out evenly.
Sprinkle the top very lightly with a little sea salt.
Cut and serve.
Prep Time: 40 minutes
Cook Time: 30 minutes
Container: 9 x 13 baking pan


Ingredients
-
1 box fudge brownie mix (for 9 x 13 pan)
-
1/4 cup water
-
2/3 cup vegetable oil
-
2 eggs
-
3 cups pretzels
-
1 jar caramel topping
-
Sea salt