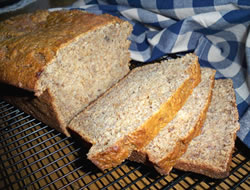 Directions
Preheat the oven to 350 degrees F. Grease the bottom and sides of the loaf pan(s).
In a large mixing bowl, combine the whole wheat flour, soda, and salt.
In a smaller bowl, combine the honey and applesauce; stir to mix evenly.
Add the eggs and mashed bananas to the applesauce mixture. Stir all together until evenly mixed.
Add the applesauce/banana mixture into the flour and stir just until dry ingredients are moistened.
Pour the batter into the loaf pan and place in the preheated oven. Bake for 60 to 65 minutes or until a toothpick poked in the center comes out clean.
Cool in the pan for 10 minutes and then turn out onto a wire rack to cool.
Note: If using smaller loaf pans be sure to reduce baking time. Watch for browning and then start checking with a toothpick. You may find that smaller loaf pans work better because in the large loaf pan the center seems to have a hard time getting done before the bottom is too done.
Prep Time: 30 minutes
Cook Time: 60 minutes
Container: 9 x 5 loaf pan or two smaller loaf pans


Ingredients
-
2 cups whole wheat flour
-
1 teaspoon baking soda
-
1/4 teaspoon salt
-
3/4 cup honey
-
1/2 cup unsweetened applesauce
-
2 eggs, beaten
-
3 ripe bananas, mashed