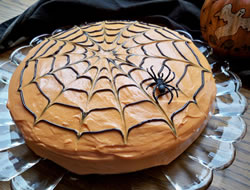 Directions
Prepare the cake as directed on the package. Cool in pans for 10 minutes and then remove and place on cake plates. Allow to cool completely before frosting.
Beat together the cream cheese and butter until creamy.
Add the powdered sugar and vanilla; beat until smooth and creamy. If frosting is too thin add a little more powdered sugar.
Add food coloring, start with 8 drops of yellow and 6 drops of red. Mix well so coloring is even. If not as dark as you would like add a few more drops proportionately. If not the right shade, add one color or another until it is the shade you are trying to achieve. Be careful when adding the red because it will affect the color more than the yellow.
Frost each cake separately, do not layer.
Using black decorating gel, draw circles on the top of the cake, making them 3/4 to 1 inch apart.
After the circles are all drawn on the cake, use the blunt end of a wooden skewer or any other blunt pointed object and lightly drag it from the middle to the outer edge to create the web. Continue in the same manner all around the cake.
After the web is finished, place a spider ring on the web of the cake top. You can also create your own spider out of candy if desired. If you would like, more than one spider could be added.
Prep Time: 45 minutes
Cook Time: 25 minutes
Container: Two 9-inch round cake pans
Servings: 16


Ingredients
-
1 package cake mix - French vanilla or desired flavor
-
4 ounces cream cheese - softened
-
1/4 cup butter - softened
-
2 1/4 cups powdered sugar
-
2 teaspoons vanilla
-
Yellow and red food coloring