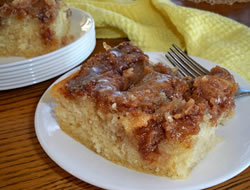 Directions
Preheat the oven to 350 degrees F. Grease a 9 x 13 baking pan.
Add all the cake ingredients, except the butter, to a large mixing bowl; beat until all ingredients are evenly mix together.
Add the melted butter and slowly stir it into the batter; pour into the greased baking pan.
Mix all the topping ingredients together; beat until well combined.
Drop the topping by teaspoons evenly over the batter. Using a table knife, swirl the topping back and forth through the batter.
Bake in preheated oven for 30 to 35 minutes.
Prepare the glaze with the cake is baking. Stir all ingredients together until smooth.
When the cake is done, remove from the oven and place on a cooling rack. Drizzle the glaze evenly over the warm cake.
Allow cake to cool before serving.
Prep Time: 40 minutes
Cook Time: 30 minutes
Container: 9 x 13 baking pan
Servings: 15


Ingredients
-
3 cups flour
-
1 cup sugar
-
4 teaspoons baking powder
-
1/4 teaspoon salt
-
1 1/2 cups milk
-
2 eggs
-
2 teaspoons vanilla
-
1/2 cup butter - melted
-
TOPPING:
-
1 cup butter - softened
-
1 cup brown sugar
-
2 tablespoons flour
-
1 tablespoon cinnamon
-
MAPLE GLAZE:
-
1 1/4 cups powdered sugar
-
3 tablespoons milk
-
2 1/2 tablespoons maple syrup