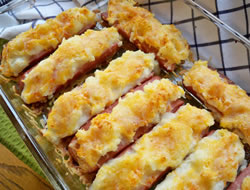 Directions
Preheat the oven to 375 degrees F.
Make up the instant potatoes and set aside.
Slit the hot dogs down the middle lengthwise without cutting all the way through.
Stuff the hot dogs down the middle with the mashed potatoes and sprinkle lightly with paprika; place them in a baking dish.
Sprinkle with cheese and place them in the preheated oven. Bake for 20 to 25 minutes or until lightly browned. Serve immediately.
Prep Time: 25 minutes
Cook Time: 20 minutes
Container: Baking dish
Servings: 10


Ingredients
-
10 hot dogs
-
4 servings instant mashed potatoes
-
Paprika
-
Colby Jack or Cheddar cheese, shredded