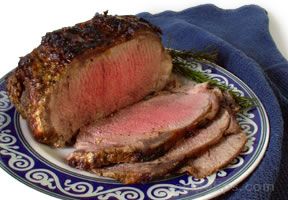 Directions
Preheat oven to 425° F.
Combine the following ingredients in a small bowl: brown mustard, wine, minced garlic, herbs, and freshly ground ginger. When the mixture has a paste-like consistency, rub it over the entire surface of the roast.
On the stovetop, heat 1 tablespoon of oil in a heavy roasting pan. Then add the roast to the pan and brown all sides.
When the roast is browned, place it in a 425° F oven for 10 minutes. Then, turn the oven down to 250° F and continue baking at 30 minutes per pound.
Prep Time: 15 minutes
Cook Time: 1.5 hours
Container: heavy roasting pan
Serving Size: 2 pieces


Ingredients
-
3 pounds top loin beef roast
-
1/2 cup brown mustard
-
2 tablespoons red cooking wine (or table wine)
-
1 tablespoon garlic, minced
-
1 teaspoon cracked pepper, leaf rosemary, leaf thyme, ground oregano, ground corriander
-
1/4 teaspoon freshly ground ginger