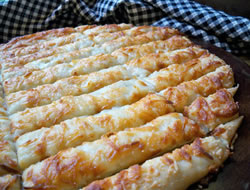 Directions
Preheat oven to 400 degrees F. Spray pizza stone or pan with cooking spray.
Spread pizza crust or Italian bread out on the pizza stone or pan.
Mix the butter and garlic together; spread over the crust.
Sprinkle half the Mozzarella cheese over the garlic butter, then the Parmesan cheese, and then the remainder of the Mozzarella cheese.
Place in the preheated oven and bake for 15 to 20 minutes or until the cheese has started to brown nicely.
Serve with pizza sauce or marinara sauce.
Container: Pizza stone or pan


Ingredients
-
1 pizza crust or tube of Italian bread
-
3 tablespoons butter
-
1 teaspoon minced garlic (add more garlic as desired)
-
2 cups Mozzarella cheese
-
1 cup Parmesan cheese
-
1 jar pizza sauce or marinara