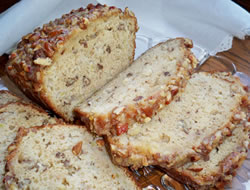 Directions
BREAD:
Preheat oven to 350 degrees F. Grease the bottom and sides of the loaf pan.
Prepare apples, cover and set aside.
Combine 1 cup of brown sugar with the sour cream, eggs, and vanilla in large mixing bowl; beat on low speed until well blended.
Add the flour, baking powder, baking soda, and salt; beat on low until all ingredients are mixed evenly.
Add the apples and half of the pecans to the dough; fold in until evenly distributed.
Pour the dough into the grease loaf pan; pat down evenly. Sprinkle the top with the remaining pecans; press the pecans slightly into the top of the dough.
Place in the preheated oven and bake for 50 to 60 minutes or until a toothpick poked in the center comes out clean.
Remove from the oven and allow to cool for 20 minutes before removing from the loaf pan. Place on a wire rack to finish cooling.
DRIZZLING SAUCE:
Combine the brown sugar and butter in a small saucepan. Over medium heat, bring the mixture to a boil.
Once it is boiling, turn the heat to low and let the sauce simmer for about one minute until it thickens; stir constantly.
Remove from the heat and drizzle over the top of the bread. The bread does not have to be cooled before drizzling the sauce over it.
Drizzle all of the sauce evenly over the top of the loaf. Some sauce will drizzle down the sides but try not to let much drizzle off onto the counter. If it does, try spooning it up and drizzle it back over the bread.
Once all the sauce has been drizzled on the bread, allow it to cool completely before slicing.
Prep Time: 60 minutes
Cook Time: 55 minutes
Container: Stoneware loaf pan or regular loaf pan


Ingredients
-
BREAD:
-
1 cup brown sugar
-
1 cup sour cream
-
2 eggs
-
2 teaspoons vanilla
-
2 cups flour
-
2 teaspoons baking powder
-
1/2 teaspoon baking soda
-
1/2 teaspoon salt
-
1 1/2 cups peeled and finely diced Granny Smith apples ( or your favorite in season apple)
-
1 cup chopped pecans
-
DRIZZLING SAUCE:
-
1/4 cup brown sugar
-
1/4 cup butter