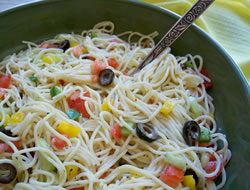 Directions
Prepare the tomatoes, cucumbers, and peppers as indicated.
Break pasta in half and add to boiling water. Cook according to instructions on the package. When it is done, rinse in cold water and drain well.
While the pasta is cooking, mix up the Italian dressing according to the package instructions but only use 1/2 the oil that is called for.
Mix the Ranch dressing mix with the 1/2 cup of olive oil and 1/3 cup of red wine vinegar.
Combine the pasta, vegetables, black olives (drained), and dressings together in a large bowl. Toss until everything is coated evenly and the vegetables are distributed throughout.
Refrigerate for 12 hours before serving; toss again before serving.
Prep Time: 60 minutes
Cook Time: 15 minutes
Container: Large bowl
Servings: 12


Ingredients
-
4 tomatoes - medium, diced
-
2 cucumbers - medium, diced
-
1 green bell pepper - small, seeded and diced
-
1 yellow bell pepper - small, seeded and diced
-
16 ounces angel hair pasta
-
1 package Italian salad dressing mix (2/3 oz.)
-
3 packages Hidden Valley Ranch Dressing Mix (1 oz. ea.)
-
1/2 cup olive oil
-
1/3 cup red wine vinegar
-
1 can black olives - sliced (2 1/4 oz. can)