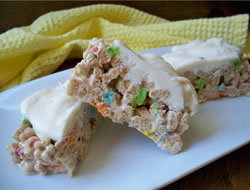 Directions
Butter the bottom and sides of a 9 x 13 pan.
Melt the butter in a large saucepan over low heat.
Add the marshmallows and stir until melted; remove from heat.
Add the Lucky Charms and stir until evenly coated.
Pour mixture into the buttered pan. Using well-buttered hands, carefully press the mixture into the pan so it is evenly distributed.
Press bars down firmly and then allow to cool completely.
Once cooled, melt the almond bark in the microwave. Dip the top of each bar into the melted almond bark and then place on wax paper. Allow to set until almond bark hardens.
Note: You could use a spoon to drizzle the melted almond bark over the top of the cut bars if desired.
Prep Time: 45 minutes
Cook Time: 5 minutes
Container: 9 x 13 pan
Servings: 24


Ingredients
-
3 tablespoons butter
-
10 ounces marshmallows - 40 large or 4 cups of miniature
-
6 cups Lucky Charms cereal
-
8 ounces almond bark