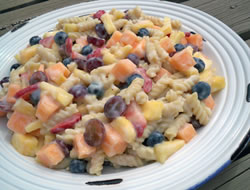 Directions
Cook pasta according to package directions; rinse with cold water and drain well. Set aside.
Slice the strawberries, cube the cantaloupe and pineapple, and cut grapes in half. Go through the blueberries and discard any with blemishes.
Combine all the fruit, along with the pasta, in a large bowl. Add the yogurt and carefully stir to coat the fruit and pasta evenly.
Refrigerate to chill for at least 30 minutes before serving.
Prep Time: 45 minutes
Cook Time: 10 minutes
Servings: 8


Ingredients
-
8 ounces spiral pasta
-
1 1/4 cups sliced strawberries
-
1 1/2 cups cubed cantaloupe
-
1 1/2 cups cubed pineapple
-
1 cup seedless grapes - halved
-
1 cup blueberries
-
2 6 oz. vanilla yogurt (1 1/2 cups)