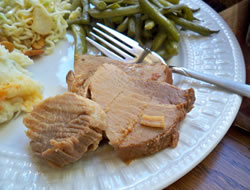 Directions
Trim any excess fat from the roast. Place in a Dutch Oven or slow cooker. In a bowl, stir together beer and barbecue. Pour over beef.
Cover and bake in a 325 degrees F. oven for 2 1/2 hours or until tender. If cooking in a slow cooker, cook for on low for 5 to 6 hours. Remove meat from Dutch oven or slow cooker. Cool slightly. Slice meat and return slices to sauce in pan.
Reheat or transfer to a storage container; cover and chill up to 24 hours before serving time. To reheat, return mixture to Dutch oven. Bring mixture to a boil and simmer, covered, for 10-15 minutes. Reheat in the same manner if originally cooked in the slow cooker. Once it is heated thoroughly it could be placed in the slow cooker on low or warm to keep it hot for serving.
Prep Time: 10 minutes
Cook Time: 2.5 hours


Ingredients
-
3 pounds pork roast
-
1 can beer (12 ounce can)
-
1 cup barbecue sauce