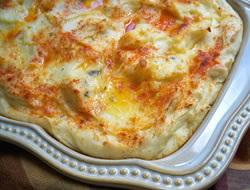 Directions
Peel and quarter the potatoes. Boil until tender; drain.
In a large mixing bowl, beat the potatoes until fairly well mashed. Add the cream cheese, sour cream, milk, butter, parsley flakes, and garlic salt; beat until smooth and fluffy.
Grease a 9 x 13 baking dish; spoon the mashed potatoes into it and spread out evenly. Dab a tablespoon of butter over the top and sprinkle with the paprika.
Cover with plastic wrap and refrigerate until ready to bake. When ready to bake, place in an oven preheated to 350 degrees F, uncovered. Bake for 40 to 45 minutes or until thoroughly heated.
Prep Time: 40 minutes
Cook Time: 45 minutes
Servings: 10


Ingredients
-
12 potatoes - medium
-
8 ounces cream cheese
-
1 cup sour cream
-
1/4 cup milk
-
1 tablespoon butter or margarine
-
1 tablespoon parsley flakes
-
1 teaspoon garlic salt
-
1 tablespoon butter or margarine
-
1/4 teaspoon paprika