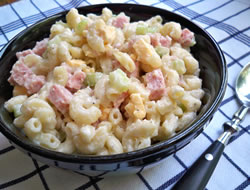 Directions
Cook macaroni, rinse with cold water, drain, and set aside.
In a large bowl, add the salad dressing, milk, onion salt, pepper, and sugar; stir together until well mixed.
Add the drained macaroni to the dressing mixture; stir to evenly coat the macaroni.
Add the ham, celery, and cheese; stir to evenly distribute. Taste test and add more onion salt, pepper, or sugar as needed.
Note: Add or substitute desired ingredients. You could substitute chicken, crab, or shrimp in place of the ham. If desired, you could add other vegetables, such as peppers, carrots, and cucumbers. If you add other ingredients you may need to add a little more salad dressing so that the salad does not get too dry.
Prep Time: 1 hour
Cook Time: 10 minutes


Ingredients
-
2 cups elbow macaroni (or favorite salad pasta), uncooked
-
3 cups salad dressing (or mayonnaise, if preferred)
-
1/4 cup milk
-
1/2 teaspoon onion salt
-
1/4 teaspoon pepper
-
2 tablespoons sugar
-
1 cup diced ham
-
1 cup diced celery
-
2 slices Velveeta cheese, cubed