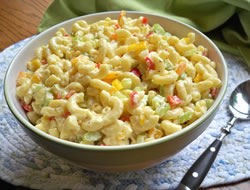 Directions
Cook macaroni according to package directions; rinse and set aside.
Mix the mayonnaise, vinegar, mustard, sugar, onion salt, salt and pepper together in a bowl. Stir until well mixed.
Mix the dressing together with the macaroni.
Chop the celery and peppers; add to the macaroni and dressing. Stir all ingredients together until evenly distributed and coated with dressing.
Refrigerate until ready to serve.
Note: You can use any combination of any colors of bell peppers you prefer. You do not have to use all four colors.
Prep Time: 40 minutes
Cook Time: 10 minutes
Container: Large bowl for mixing
Servings: 6


Ingredients
-
8 ounces elbow macaroni
-
1 cup mayonnaise
-
1 tablespoon vinegar
-
1 tablespoon mustard
-
2 teaspoons sugar
-
1/2 teaspoon onion salt
-
1/2 teaspoon salt
-
1/4 teaspoon pepper
-
1 cup diced celery
-
1 cup bell peppers - mixture of green, red, orange and yellow