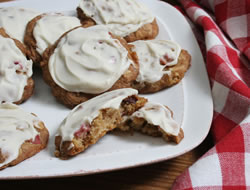 Directions
COOKIES:
Cream the butter, brown sugar, and white sugar together; beat in the eggs and vanilla.
Combine the flour, baking soda, salt, and cinnamon.
Whisk the dry ingredients together and then gradually mix into the creamed mixture.
Add the oats, vanilla chips, dried cranberries and rhubarb; stir until well mixed.
Spray the cookie sheets before placing cookie dough on them. Drop cookie dough by a tablespoonful approximately 2 inches apart on the sprayed cookie sheets. Be sure to spray cookie sheets before each batch.
Bake in an oven preheated to 350 degrees F. for 10 to 15 minutes or until set and golden brown in color.
Remove from cookie sheets and place on a wire rack to cool.
FROSTING:
Beat the cream cheese, butter & vanilla in a mixing bowl until smooth.
Gradually add in the powdered sugar; mix until smooth. If frosting is too thin, add a little more powdered sugar until it is a spreadable thickness.
Spread the frosting on the cooled cookies. Store the cookies in an airtight container.
Servings: 60


Ingredients
-
COOKIES:
-
1 cup butter or margarine
-
1 cup brown sugar
-
1/2 cup white sugar
-
2 eggs
-
1 teaspoon vanilla
-
2 cups flour
-
1 teaspoon baking soda
-
1/2 teaspoon salt
-
1/2 teaspoon cinnamon
-
2 1/2 cups old-fashioned oats
-
1 cup vanilla chips
-
1 cup dried cranberries
-
1 1/2 cups chopped rhubarb
-
FROSTING:
-
4 ounces cream cheese
-
1 tablespoon butter or margarine
-
1 teaspoon vanilla
-
3 cups powdered sugar