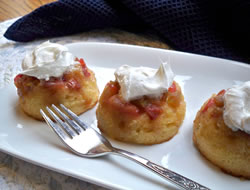 Directions
Generously grease the sides and bottom of the muffin cups. Preheat oven to 350 degrees F.
In a medium bowl, cut 1/4 cup butter into 1/2 cup brown sugar until the mixture is crumbly; stir in the rhubarb.
Spoon this mixture into the greased muffin cups. Distribute evenly between the cups; set aside.
Cream the butter and sugar together. Add the egg and beat until well mixed.
In a separate bowl, mix together the flour, baking powder, salt and nutmeg.
Add the half the flour mixture and half the cream; mix well and then add the remaining flour mixture and cream. Beat until batter is well mixed.
Pour the batter over the rhubarb mixture in the muffin cups, Fill about 3/4 full or no more than 1/4 inch from the top edge.
Place in the preheated oven and bake for 15 to 20 minutes. Allow to cool for 5 minutes in the muffin tin and then turn out onto a serving tray so the rhubarb layer is on top.
Serve warm. Top with whipped topping if desired.
Prep Time: 45 minutes
Cook Time: 20 minutes
Container: Muffin tin
Servings: 12


Ingredients
-
1/2 cup brown sugar
-
1/4 cup butter - cold
-
1 cup dice rhubarb - fresh
-
1/2 cup sugar
-
1/3 cup butter - softened
-
1 egg
-
1 1/2 cups flour
-
2 teaspoons baking powder
-
1/2 teaspoon salt
-
1/4 teaspoon nutmeg
-
1/2 cup cream
-
Whipped topping (optional)