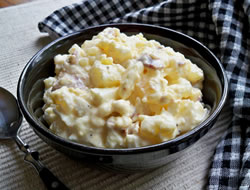 Directions
Fry bacon, blot off excess grease with a paper towel, and then crumble into pieces; set aside.
Peel the potatoes, cut into chunks, put in a large pot, cover with water, and boil until just tender when poked with a fork. Do not overcook! Drain well and allow to cool.
While the potatoes are cooking you can boil the eggs to make hard boiled eggs. When done cooking the eggs, drain and cover with cold water to cool them down.
Once the potatoes are cooled, slice into thick pieces and place in a large bowl.
Peel the eggs, rinse, and cut in half. Remove the yolk and place on a separate plate. Dice the egg whites and add to the potatoes. Mash the yolks slightly to eliminate chunks and then add to the potatoes and egg whites.
Add the minced onions. Clean and slice radishes and add to the other ingredients.
In a separate bowl, combine the salad dressing, mustard, and sugar; mix thoroughly and add to the potatoes and eggs.
Stir dressing into other ingredients until everything is evenly coated; sprinkle lightly with Salad Supreme and add salt and pepper to taste.
Stir in the crumbled bacon.
Taste test and adjust salad supreme, sugar, salt and pepper as needed for your personal taste.
Chill in the refrigerator for several hours before serving.
Note: The potato salad can be made up 1 to 2 days ahead of time and then be refrigerated until serving.
Prep Time: 2 hours
Cook Time: 30 minutes
Servings: 20


Ingredients
-
1/2 pound bacon (add more if desired)
-
5 pounds potatoes
-
12 eggs
-
1 medium onion, minced
-
radishes, sliced
-
1 jar salad dressing - 30 oz.
-
2 tablespoons Dijon mustard
-
3 tablespoons sugar
-
Salad Supreme, to taste
-
Salt and pepper to taste